Protecting Those Who Serve
A REVOLUTIONARY ADVANCEMENT IN EXPLOSIVE BLAST MONITORING AND SURVEILLANCE
The Blast Gauge® System is a 3-sensor set worn on the head, shoulder, and chest. Unit medics and leadership are alerted wirelessly or via button push on gauge, when further evaluation is required. Detailed data can be downloaded and analyzed by medical personnel wirelessly or via a micro-USB connection. The user-friendly mobile application is compatible with Android handhelds. The PC software is compatible with Windows 10.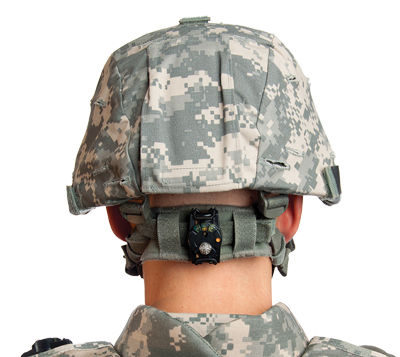 01. Blast Occurs

The Blast Gauge® System records exposure data that may correlate to TBI.

02. LED Feedback

Upon request, the device emits a visual cue based on blast severity.

03. Connect to PC

Get more info on-site or back at base with our proprietary software.

04. Document Exposure

Add blast data to permanent medical records or use for research.
"This equipment is the first affordable equipment that measures blast pressure in explosive breaching."

LT. GARY SAMMONS, BOMB SQUAD
Traumatic Brain Injury: An Occupational Hazard
T raumatic brain injury (TBI) from an explosive blast remains a significant problem for military and law enforcement personnel exposed to harmful levels of blast shockwaves, especially those involved in operations and training. A blast shockwave can cause a series of complex mechanical and physical reactions in the brain. Mild to moderate TBI may be difficult to detect immediately post event, with cognitive or motor deficits manifesting weeks or months later. Additionally, scientific studies have linked repetitive overpressure exposure to structural changes in the brain, increased risk of PTSD, acceleration of age-associated neurological disorders, and concussion symptoms, highlighting the need for individualized blast surveillance similar to radiation badge programs.
Because it is not possible to provide protection from the occupational hazard of blast shockwaves, monitoring and documenting exposure to identify individuals at risk for TBI is paramount. For this reason, BlackBox Biometrics developed the Blast Gauge®, a rugged sensor that captures pressure and acceleration experienced in an explosive blast. The device immediately categorizes the exposure, guides real-time triage capability for blast exposure intensity, and then stores or wirelessly transmits the exposure data for detailed post-event analysis. This technology will help identify individuals with blast exposures that could put them at risk of brain injury long before physical and cognitive symptoms arise.